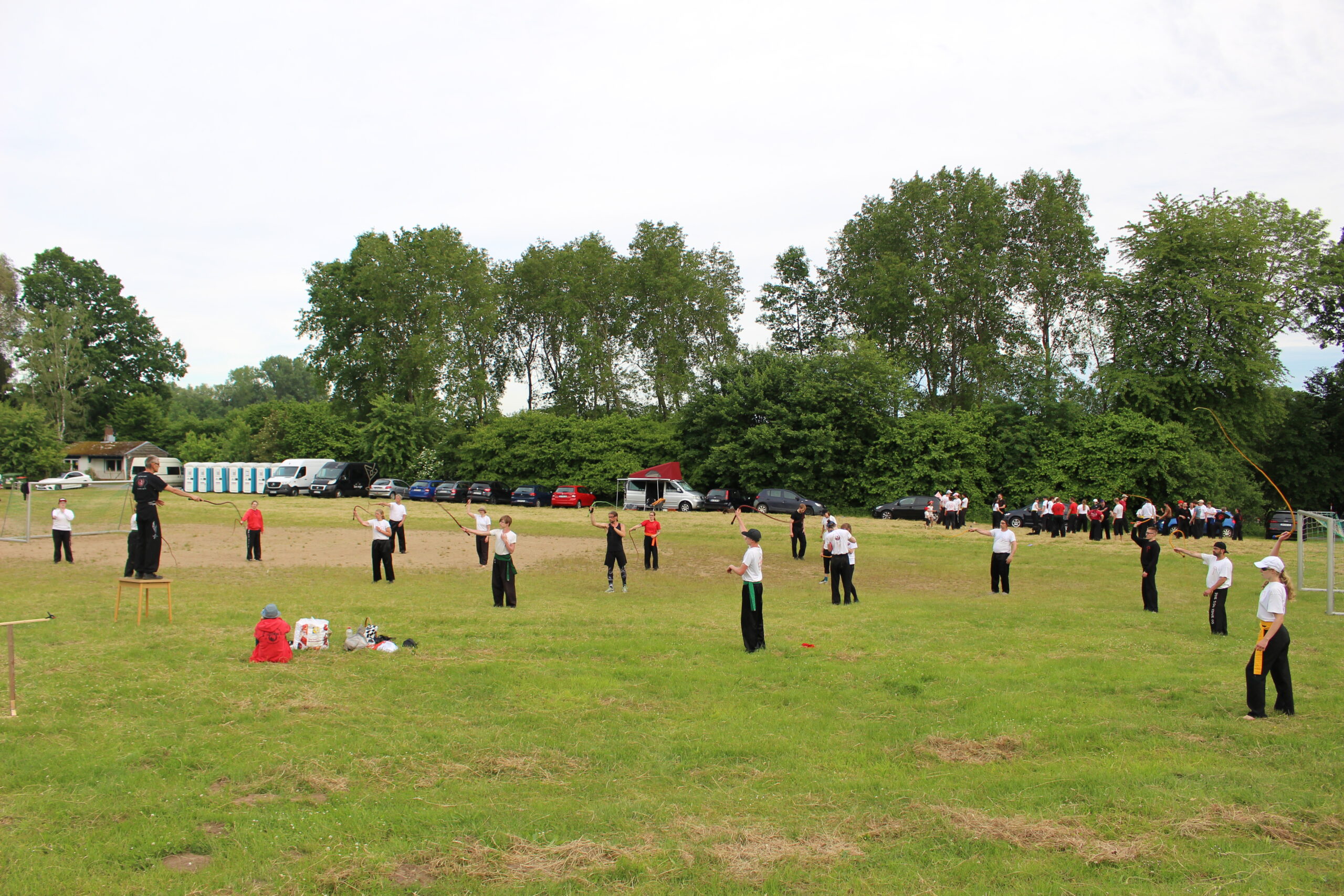 Bo-sau gut
After a forced two-year break, it was finally time again. The KungFu outdoor camp in Bosau experienced a comeback with new organizers. Of course, our whip couldn't be missing. It started for us on Sunday. At the beginning of our lesson there was a small demonstration. Eve, Arvid and I shared a little story about what we have been training for the last few months. Claudia filmed it professionally, just take a look. After that, about 20 spectators wanted to practice with us for two hours. At the beginning everyone learned a few basic movements. Eve, Arvid and Claudia actively helped so that everyone quickly had a sense of achievement. Most had never held a whip in their hands. A few natural talents quickly showed themselves.
For a change, some could always try to hit thin wooden sticks on a stand. That was a lot harder than it looked on the show. We upped the ante. Everyone could try to hit the beer coasters in flight. Every success was loudly applauded. In order to show the whole spectrum, there was also a part of the counterattack with the whip. But time flew, so we could only touch on a part of the topic. At the end we repeated the basic movements again and made a lot of noise.
At the end there were many happy but also exhausted faces. A new experience and perhaps a resolution to learn more of it was heard again and again. In addition to the stripes on the belt, there were now also stripes on the neck and arms. That's part of it. Thank you for the opportunity to present us. As always, it was a lot of fun and entertainment. We hope to see one or the other at the seminar soon. Until then.
By the way: You can find the pictures from the training in our gallery!
Posted in Kurse