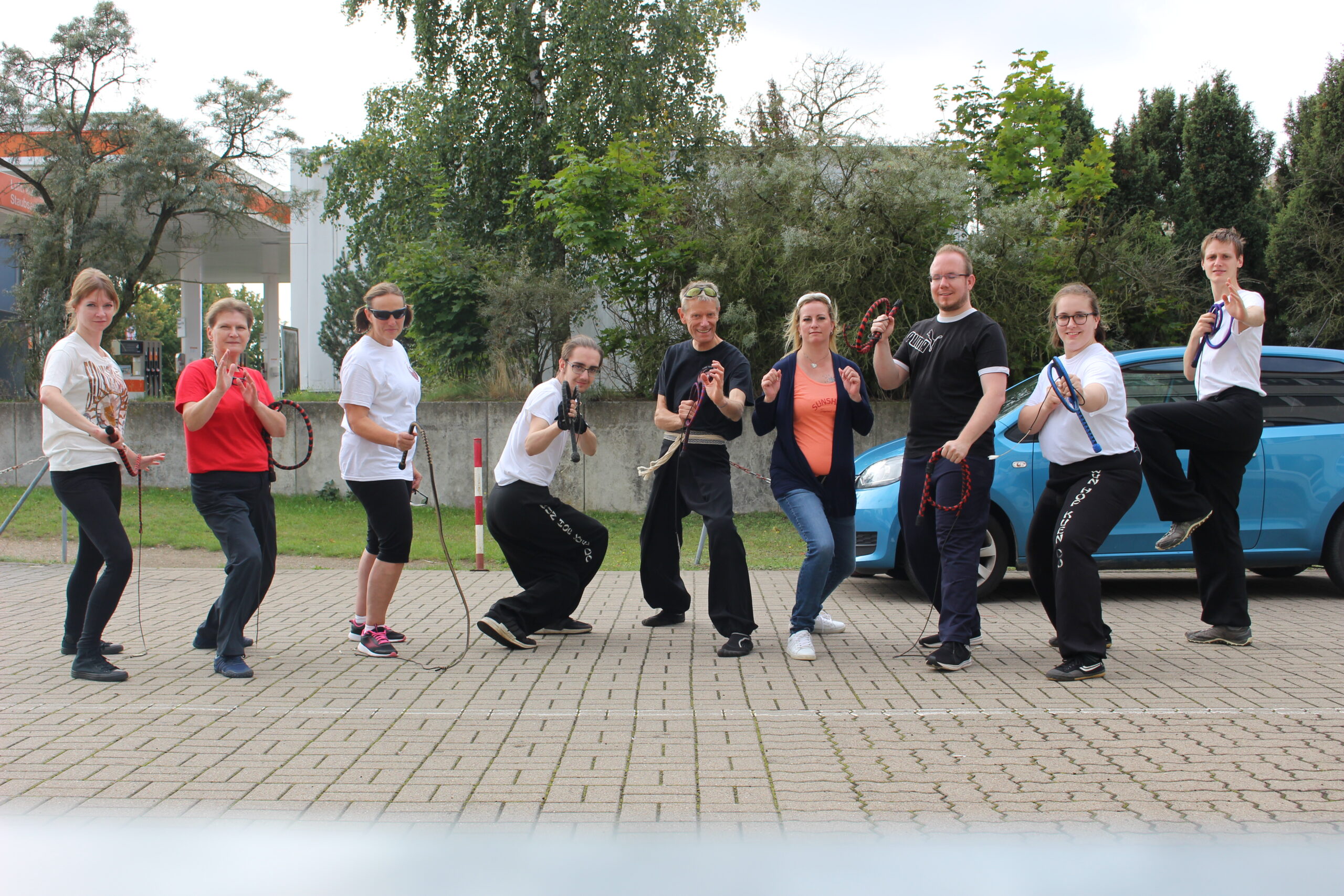 More than just whips
The weather looked good when we met on Sunday morning this time. Some had explicitly asked to train on a Sunday. In the end, however, there were no more participants because of this. After the newcomers were introduced and warmly welcomed, everyone started to repeat at their own level. Madleen and Ron tried very hard to successfully implement the first basic movements. With the advanced, it was a matter of combining the movements that they had already learned and improving them in detail. Arvid learned new movements that go beyond the whip's elementary school. For over an hour everyone learned something new at their level and then earned the first break. The arms were grateful.
Already it went into the next round. As always, it was time to have fun. After the fight against the beer coasters was so well received last time, we did a big round this time. Actually, the wooden stands with straws should still be used for target exercises. But little by little everyone started to enjoy the flying targets more. So I developed into a throwing machine to keep everyone moving. The wind played along from time to time. Some coasters were on the move by chance. But everyone fought with a lot of physical effort against the flying objects. We ended up producing a lot of confetti of all sizes and shapes.
After the second break, something was brewing about us. Luckily we could go to the KungFu school. Now it was the turn of the other side of the whip. Use in close combat. We quickly worked out what possibilities this weapon offers in the short range. Hand sling or handle end. There were a few variants for the defense. So we increased ourselves from attack blows to stick attacks to knives. That was something completely new and not yet part of a seminar. For the KungFu students it is certainly an expansion of their knowledge, for everyone else the recognition of basic principles in defense against attacks. But also the differences against the possibilities of the respective attack weapon.
After four hours we had to end, because there were very long journeys home. The sun was shining as if nothing had happened. Good for the final photo, but also good for driving home. Thanks to all participants. The next time we'll meet in the hall, probably at the beginning of the year. We haven't been there for a long time. Hopefully nothing will stop us.
Posted in Kurse