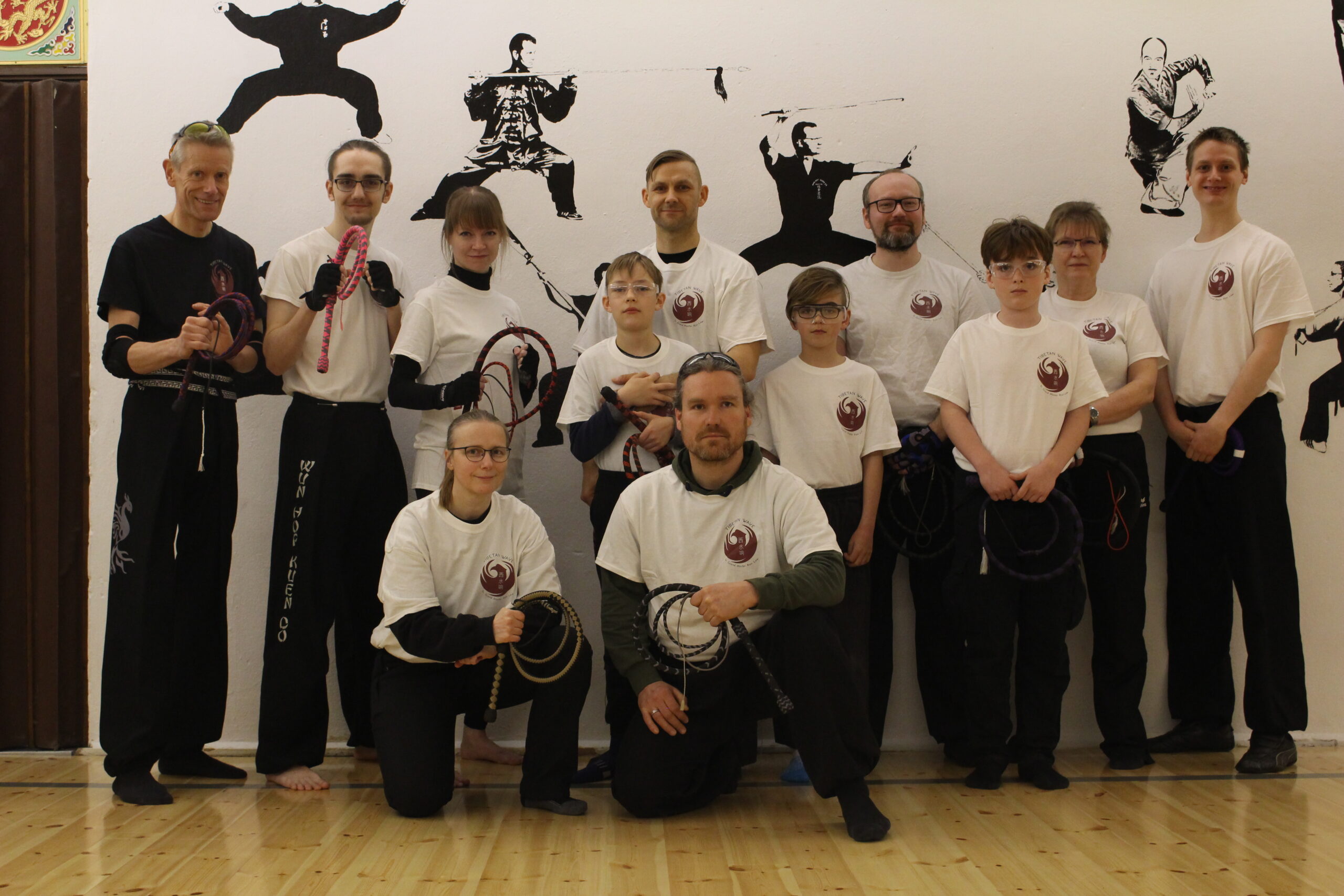 Where's a whip, there's a way!
The alarm clock is ringing. Today is the day. Finally the first whip seminar in 2022!
The view from the window is sobering for a second - rain. But knowing that that wouldn't stop anyone you're about to meet from training today only brings the smiles and anticipation back even stronger.
Arrival in Schwerin in bright sunshine. Old and new faces in the rooms and on the lawn in front of the Schwerin Martial Arts Center. The atmosphere is both cheerful and sizzling at the same time.
Micha greets us all and divides us into groups according to progress. In constant rotation he gives us instructions - in which way exactly you should grab the whip, how does this stroke work, which movement follows the previous one in the first form of the Tibetan Wave. An interplay between exuberant mood and fiery ambition has begun.
Arvid is showing his great skills as always. We carefully try to do the same. Now it's time to no longer just pay attention to your wrist, waist, arms, posture and your own energy, but to take steps to do so. Why does something that is otherwise hardly a challenge suddenly no longer work? We will have to invest some time there. But the weather changes and the rain forces us to continue indoors.
Let the games begin! Several challenges are prepared: There is a tea light on a table and a metal can is placed on it. Now knock the tea light out from under the can with as much power as possible but without hitting the can. Once you've done that, try using your whip to unscrew the cap of a water bottle. Let's up the ante - while Micha throws beer mats, let's turn them into confetti in no time at all by shredding them in mid-air with our whips. This works out? Oh, and how to do that! The cautious restraint gives way with every tealight flying through the room and every little cardboard explosion and what remains is joy at what has been achieved so far and motivation to keep learning more.
Short break to recharge the body and to share the experiences so far. 3 whip makers are on site today and start enthusiastic discussions about material, knotting technique and ideas for future projects ("Hey, what exactly does it take so that we can light a whip and then whip with fire?").
Here comes the sun - Everyone back outside and quickly seize the opportunity to crack the whips to their full length and refine the moves you have learned. Here comes the rain again - Well then let's go inside to play. The 4 hours just flew by and left us exhausted but satisfied. It's a pity that it's already over for today, but we were able to take so much with us and, above all, we already know that the next seminar will be in June and we'll be there, come what may! The weather can't stop us! Nothing can stop us! Because: Where's a whip, there's a way!
Eve
PS: Click here for the pictures of the seminar! (just click)
Posted in Kurse